Abandoned and Orphaned Wells
March 15, 2022
Abandoned and orphaned wells are getting quite a bit of attention lately. With the environmental impacts of these wells coming into clearer focus, oil and gas companies — as well as governments — are devoting resources to plug and abandonment projects. This has raised the question: who is actually plugging the wells?
Plants & Goodwin was recently featured in a video published by The Financial Times on this very subject. In it, our own Luke Plants guides a reporter through an in-progress plug and abandonment project.
We're pleased to have been included in this story, and appreciate the opportunity to educate the public on what we do. If you'd like to learn more about Plants & Goodwin's plug and abandonment services, please reach out today.
P&G offers a wide range of capabilities to serve a diverse set of plug and abandonment (P&A) requirements in the region. Exploration companies and state governments are suffering the same ailment: how to plug wells quickly, safely, and inexpensively.
P&G Knows P&A
The expertise and tools required for P&A of conventional wells are drastically different from those required for first-generation shale gas wells that now require decommissioning. The contractor market remains fragmented and likewise unable to meet demand cost-effectively. Most significantly, pressure to plug more wells for less money has created a culture of shortcuts and unsafe work practices.
This is why P&G is the contractor of choice for dozens of clients undertaking P&A projects.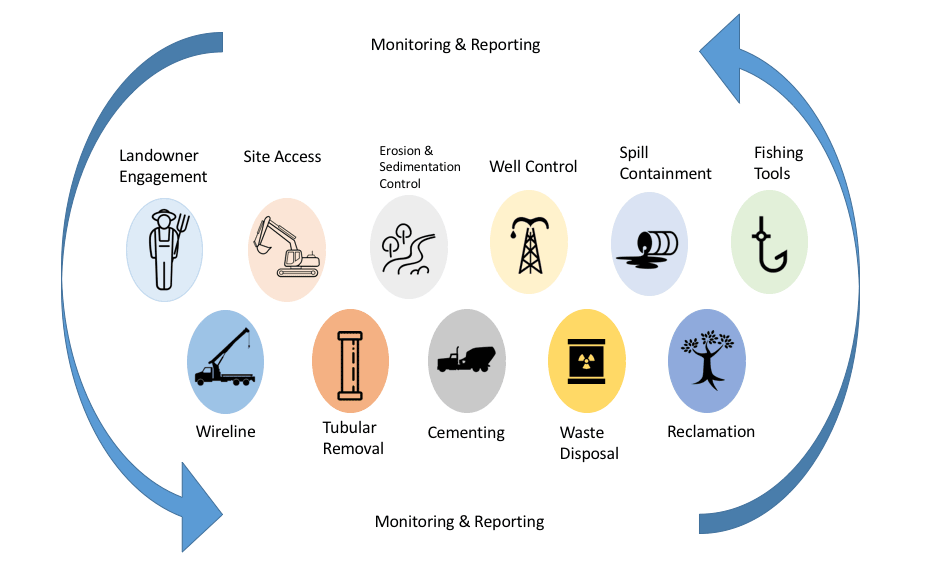 The Turnkey Model
P&G's solution to many of the problems facing clients lies in its turnkey model of plug and abandonment project management. Hidden costs are eliminated by setting a not-to-exceed ceiling. The project is managed more efficiently as subcontractor use is minimized or eliminated.
Start-to-finish project oversight allows information to be freely shared from one responsible party to the next. By combining all this with a culture of safety and environmental stewardship, we solve the most difficult problems facing clients in the United States today.
Capabilities
Listed below are a handful of P&G's capabilities that allow us to thrive in this segment:
12 available service rigs

Capable of pulling hookloads of 300,000 lb.
Able to clean out wells with little to no casing integrity
P&A experience on hundreds of conventional and unconventional wells throughout New York, Pennsylvania, Ohio, and West Virginia

Cementing services on call

Chassis mounted cement pump units
2,000 sack bulk cement on location
24/7 customer support

Assets for pad construction and reclamation
Permitted waste hauling capable of handling liquid, solid, and hazardous materials
Mud pumps for reverse circulation during well intervention
Blowout preventers (BOPs), lubricators, and other well control equipment